Posted:
September 17th, 2008 |
Author:
admin
|
Filed under:
Wrecks
|
Tags:
Wrecks
|
143 Comments »
The U-352

The U-352 is a German Type VIIc U-Boat, 218 ft. long. It was sunk May 9, 1942, by depth charges from the US Coast Guard Cutter Icarus. Some of the U-352s crew were rescued by the Icarus and interned as POWs until the end of WWII.The U-352 now lies on the bottom of the Atlantic Ocean, about 25 miles from Beaufort Inlet, North Carolina. It is 115 ft. deep and sits on the bottom with a heavy list to starboard.

At first glance the U-352 seemed relatively intact, closer inpection reveals that every object that could possibly be removed has been. Deck guns, hatch covers, etc… have long ago been stripped away from it.The long boat ride to this wreck is somewhat offset by the warm clarity of the Gulf Stream waters so far from the coast.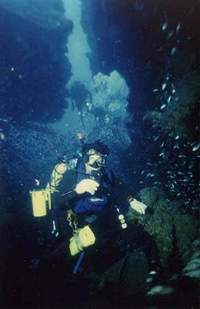 The Papoose
The Papoose was a 412 ft. long oil and gasoline tanker. It was sunk March 18, 1942 by torpedos from the German U-boat U-124.
It now lies upside down on the bottom, 130 ft. deep.
This wreck is more than 30 miles (10 hour round trip boat ride!) from the North Carolina coast, and well into the Gulf Stream. It's inverted hull is heavily encrusted with reef life, but the most interesting parts of the wreck are either crushed under the hull or require deep penetration dives to explore.
For more info please visit www.thunderstruckobservatory.com/ships.html
---